Our Doors
We currently offer seven collections of 100% solid wood entry doors with matching solid wood sidelites and jamb sets, and two collections of 100% solid wood Interior Doors.
We do not use any veneers or engineered stiles and rails in our products, eliminating the possibility of peeling or delamination.
All exterior solid wood doors are handcrafted to your exact size.
Entry Door Collections
Specifications:
Thickness: 1-¾"
Width: 30", 32", 36", 42" for doors & 11" to 16" for sidelites
Height: 6'8" (80") & 8'0" (96")
Panels: 1-¾"
Construction: All solid wood stile and rail that are securely joined by type I glued dowels and solid wood free-floating center panels, no thin veneer over particle board.
The solid wood stile and rail Mahogany Type and American Red Oak collections only, have raised moldings on one side.
American Red Oak Collection features two solid boards glued together for the center stiles and horizontal rails.
Interior Door Collections
Specifications:
Thickness: 1-⅜"
Width: 24″, 28″, 30", 32", 36"
Height: 6'8" (80")
Panels: 1-⅜"
Construction: Solid stile and rail construction and solid wood panels, Dowel Construction, type I exterior glue (no thin veneer over particle board) with floating panels.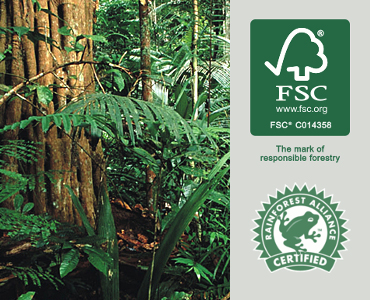 FSC® Certified by NEPCon, a partner of the Rainforest Alliance
Main Door is proudly FSC® certified by NEPCon, a partner of the Rainforest Alliance. Our product line of solid wood doors, sidelites, and jamb sets is manufactured and shipped open for glass from our state-of-the-art partner factories in South America.
Main Door is also proudly certified by NAMI's NFRC 11-step certification program on door performance testing. The NFRC certification gives consumers the assurance that Main Door products comply with and have been rated by the world's foremost expert in window, door, and skylight performance.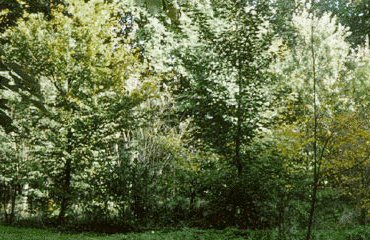 Wood as a Renewable Resource
Solid wood doors have traditionally been the top door choice of homeowners because of its beauty, warmth, durability and lasting value.
The natural variations of the wood guarantee no two doors are ever the same. With responsible, "green" and "sustainable" resource management, we offer top-quality wooden doors while also protecting the environment.
South American Mahogany type
South American Mahogany type wood (Cedrelinga catenaeformis Ducke) is one of the most prestigious hardwoods. Its brownish natural color and rich grain enables one to achieve a finish which will add warmth & ambience to any room.
Northern American Red Oak
Northern American Red Oak (Quercus rubra) with natural variations in color and grain has a very robust grain. Being a dense hardwood, red oak proves to have excellent durability against the elements.

Standard & Distressed Finishes
We offer a variety of water-based, environment-friendly stain finish colors creating a look that not only reveals the wood's radiance but also brings out the richness of every piece of wood.
The final clear top coat with a semi-gloss sheen, offers a rich look, exceptional durability, and protection. The Standard Finishes vary by the wood they are applied to.
The hand-scraped "rustic distress" finish adds a timeworn appearance . The doors are intentionally distressed for an older look as though they've been around for a long time, with a surface texture and patina, i.e. scratches, holes and dings.
Because of the inherent variations of the wood, final product may differ from photographic and printed samples.
You also have the option to order your door Unfinished if you wish to apply your own Finish or Paint.
Standard Finish Options
For Mahogany Type wood species (Craftsman, Dutch Door, and Contemporary Collections):
Antique Stain
Blue Paint*
Bright Orange Paint
Cherry Stain
Espresso Stain
Golden Oak Stain
Green Paint*
Grey Paint*
Lime Green Paint
Red Paint*
Walnut Stain
Desert Sand Wash Stain
White Paint
*Semi-transparent paints
For Oak wood species (American Red Oak Collection):
Dark Walnut
Light Walnut
Natural
Red Oak
Distressed Finish Options
Only available for the Rustic Mahogany Collection.
Distress Marks
Black Edges
Glass & Hardware
---

Glass
We offer a large variety of glass designs and options for each door model and collection, with clear or obscure triple-glazed tempered insulated glass, decorative hand-assembled beveled glass clusters, glue-chip and water glass panels between the tempered glass, and brass, black patina or zinc metal camings.
For detailed information on the glass options per model and collection, download our brochure.
Specifications:
¾"-thick, triple-glazed
Argon-filled for energy efficiency
Decorative, hand-assembled, beveled clusters
Clear or obscure tempered glass
Glue-chip, Rain Glass or Water Glass
Style Options:
3 Designs per Model (refer to Brochure)
Metal Caming: Brass, Black Patina, or Zinc (select Collections)
Rain Glass, Black Patina, or Wrought-Iron Caming (Rustic Collection)
Privacy or Clear Glass
Threshold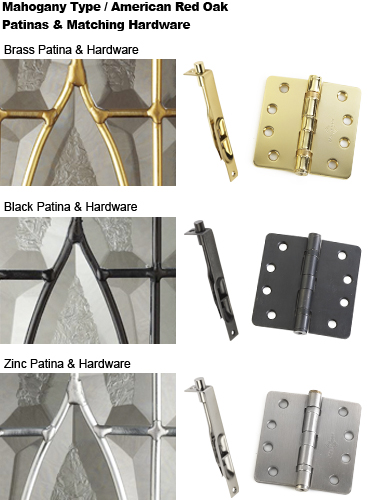 Options:
7-¼" Solid Oak Sill (Finished or Unfinished) with 2″ horns on each end.
Oak Adjustable Aluminum Sill (Brass, Bronze, or Nickel)
ADA/Handicapped Compliant (Brass, Bronze, or Nickel)
Out-Swing Bumper Sill (Zinc)
Door Shoe (Shoe Bottom)
Options:
Brass
Bronze
Satin Nickel
Hinges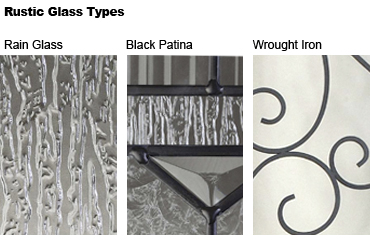 All pre-hung units are furnished with rust-resistant, ¼"-radius corner, 4×4" ball-bearing hinges, matching the pre-hung hardware. 80" doors feature 3 hinges. 96" doors feature 4 hinges.
Options:
Brass
Bronze
Satin Nickel
Rustic Accessories
---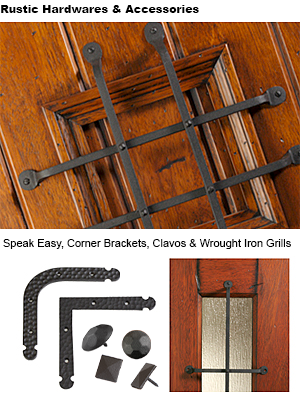 Old World Charm
Old World craftsmanship with state-of-the-art computerized woodworking makes our rustic doors the best value on the market. Our rigid adherence to the art of hand crafted and hand assembled doors, glass inserts, and rustic hardware keeps us true to time honored traditions. Our popular Rustic collection will enhance your home at a very attractive price point.
Speakeasy
Our Rustic Doors feature a fully weather-stripped operable solid wood speakeasy door, with a front wrought-iron grill, two hinges and a sash lock latch.
The speakeasy opening is assembled at high level on the upper panel, adding a perfect final touch to the Rustic Door.
Clavos
Our doors are available with round and square antique style clavos fixed securely on one or both sides of the doors in powder coated satin black.
Construction
---
Prehung
All exterior pre-hung entrance units are custom build to exact net sizes and come standard with jambs made from the same wood species as the door.
Doors are pre-hung to customer inswing or outswing requirements.
The entry door (active/operable) is pre-drilled with two face holes for standard bore & deadbolt and one edge hole (no mortise for strike plate in the jamb leg or t-mullion). For double doors, if requested, there is no charge to bore the inactive/stationary door for dummy bore
Same wood 2-½" 711 interior casing, 2-¼" exterior brickmould, flatstock or stucco mould, unfinished or finished, at additional charge
Prehung configurations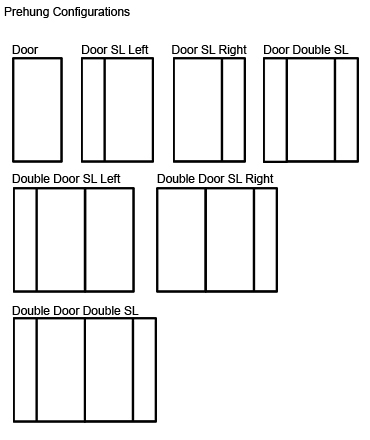 The most popular standard size, 36″ x 80″ x 1 ¾", is available in all of our collections. There are also selected models available in 30″ & 32″ x 80″, 42″ x 80″ and 36″ x 96″ in the MAHOGANY TYPE COLLECTION, AMERICAN RED OAK COLLECTION and RUSTIC COLLECTION. This allow us to accommodate most entryway configurations.
Units are offered as slab doors & sidelites only, pre-hung single door, single door with one or two sidelights, double doors, double doors with one or two sidelights and pre-hung doors with rectangular transoms for selected models, and every sidelite can be combined with any door design of its collection;
Customized Solutions
Rectangle Transoms – Matching rectangle transoms for above the entry door in a variety of widths and heights.
Operable Sidelite – With attached T-Astragal and flush bolts to operate as a double door unit.
Venting sidelites – The sidelite opens as a window (no screens) installed on one or both sides of the entry door. Provided with hinges and thumb turns.
Miscellaneous – Other details and customizations can be made as needed, upon request:
Oversized widths
Custom size jambs (up to 12″ width)
Back to back jambs and wider mull posts
Handicap sills
Mail slot & peep hole (prep only)
Sill cover
Special hardware machining preps
Special mull posts and mull pockets
Direct-set sidelight frames
Specifications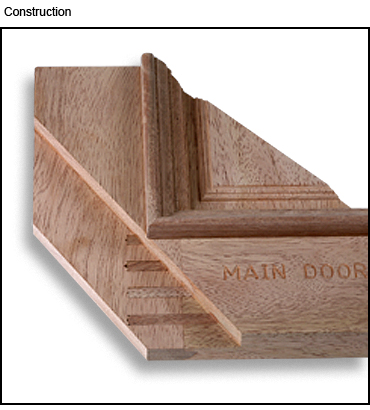 All door collections are solid stile and rail construction and solid wood panels (no thin veneer over particle board) with matching sidelites. On the "American Red Oak Collection" we face glue two solid boards together for the center stiles and horizontal rails;
Thickness: 1-¾";
Width: 30″ x 80″, 32″ x 80″, 36″ x 80″, 36″ x 96″, 42″ x 80″, with 12″ & 16″ sidelites;
Height: 6'8″ (80″) & 8'0″ (96″);
Construction: dowel construction, type I exterior glue, with floating panels, raised moldings on one side;
Panels: 1 ½" (for 1 ¾" thick door);
Jamb Width: from 4-9/16″ to 11″.
Flatstock: ¾" H x 3 ½" – 4″ W;
Casing: 5/8″ H x 2 ½" – 3 ½" W;
Brickmould: 1 ¼" H x 2 ¼" – 4″ W;
Stucco: 1 ¼" H x 1 ½" W;
Glass: ¾" triple glazed tempered insulated glass with brass, zinc and black patina caming;
Hinges: 4″ x 4″ ball bearing, ¼ round corners for 1 ¾" thick doors in bright brass, bronze and satin nickel.
Quality Shipping
---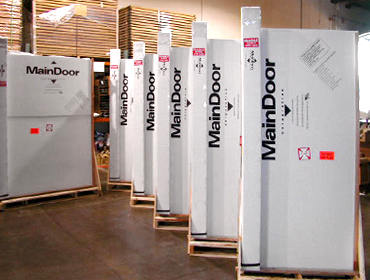 Unique Packaging
As with our product we take pride in our shipping, packaging and crating methods. We go through great lengths in the shipping & crating process to ensure that your investment is delivered safely.
All custom orders are packaged using triple-layered cardboard, plastic wrap, and wood pallets with 1×2" and 2×4" framework, ensuring proper shipping and handling of your unit. We ship all orders on an LTL environment, where strict procedures are in place during freight loading.
Each year, less than 1% of our shipped product reaches its destination with damage.
Immediately upon receipt of the order The Home Depot must completely inspect all products for defectives or damage.
Discovered damage and or defectives must be immediately noted on the bill of lading in the presence of the carrier.
Failure to do so will release Main Door Corporation from any liability. In the case of damage, it is The Home Depot responsibility to retain all packaging and shipping materials and return the shipment in the same condition in which it was received.
To Obtain a Quote & Place an Order
---
Easy No Hassle Process
Request a Quote: an estimate (proposal) will be sent by email after the customer completes the worksheet form with a detailed information on his entry door project, no later than 48 hours of the request form submission or you may also print the Worksheet form and fax it to us at: 1-310-527-0853;
Place Order: the quote price includes the delivery to the closest The Home Depot (West Coast and Southwest Divisions) to the customer's zip code;
Our The Home Depot Vendor Number is 19532 and our Special Order SKU number is 789-286;
Main Door Corporation does not install. All the units are shipped directly to The Home Depot and they can provide the installation;
We recommend the customer to call the Department 30- Millwork to measure your opening and quote the installation, which includes details such as measurements, door model, full itemization of the options and items chosen to his exact specifications;
Once the Purchase Order is received from The Home Depot and Main Door Corporation faxes a confirmation, we will begin the production of the customer entry door;
Our lead time for a pre-hung & unfinished unit is 15 days and for a pre-hung & pre-finished unit is 21 days.
Your Satisfaction is important to us
Main Door Corp. warranties its products against manufacturing defects for a period of one year from date of shipment to the retailer. It is important that the customer, contractor, architect, installer, and finisher follow warranty requirements and conditions for warranty to be in effect. For a full copy of our Limited Warranty click on the link below.
Installation, Finishing & Trouble Shooting
At Main Door, we want you to be Satisfied with your purchase. To ensure this please review all the additional information on installation, finishing, and trouble shooting located along with our Warranty. Just click on the link below.
Care & Maintenance
Exposure to the elements, such as sun, wind, rain and any type of moisture will affect any well-finished exterior wood product. In order to preserve the beauty of your door and its protective finish, it is recommended to inspect the door at least once a year, and refinish if necessary. It is considered normal maintenance to refinish the topcoat approximately once a year for those that have an overhang to protect the door.
To maintain the topcoat, it will not be necessary to strip the door. To refinish, the unit must be cleaned off all dust and residue, and given a light sanding the direction of the grain with 220-grit sandpaper. After sanding, wipe off all dust in the sanded areas. Thoroughly read and follow all instructions provided by the topcoat manufacturer on the can and apply accordingly.